Obituary for Dr. Mary Pauline Fox
Dr. Mary Pauline Fox, 87, of Pauley Addition, Pikeville, died at her home in Pauley Addition, Pikeville, on Thursday morning, April 11.
The eldest child and daughter of the late Philipp and Sarah Letisha (Sally) York Fox, she was born November 9, 1931, in Artemus, Knox County. At the age of 19 she earned a Bachelor of Arts at Union College, Barbourville, having skipped the two grades in elementary school.
Dr. Fox earned her Doctor of Medicine from the University of Louisville in 1956, one of five females in a class of 100. During her med school years, she was the first female member of ROTC in the United States.
She served a rotating internship at Good Samaritan Hospital, Lexington, 1956-57, and then joined the private practice of Dr. Edward S. Wilson in Pineville. During this time, she also served as health officer for the Leslie, Perry, and Knott County health departments.
In 1959 she was appointed by the Kentucky Department of Health as regional director for 20 Eastern Kentucky counties, a post she held until 1966, when she accepted the position of assistant medical director at Frontier Nursing Service in Hyden. At the same time, she was also acting medical director for the Health Program of the Leslie County Office of Economic Opportunity.
She then worked with Dr. Russell Hall as Assistant Medical Director of the Floyd County Health Department until 1970 when she was named Health Officer of the Pike County Health Department. She retired from this position after 23 years of service.
"Public health was considered the lowest thing you could go into. I found out differently once I got involved. It's one of the most rewarding, not financially, but rewarding because you no longer have an individual as a patient, but the whole population."
Some of her favorite patients were Head Start students to whom she gave physical examinations before they began school. She was with the program from its beginning in 1965, taking a special interest in children who were looked down upon, made fun of, and didn't have the same advantages as others. She found their physical ailments and treated them so they could start school on an equal footing with the other students. In Pike County, she had more than 500 Head Start students to examine. When she retired, the health department set up contracts with eight physicians to conduct Head Start physicals.
Head Start motivated Fox to bring specialists into the area. "Once you found the problem you had to have a solution. That's when I started getting people to help me with referrals. And then Head Start began to see that was a necessary part of the program also."
Access to clinics and specialists was especially difficult for people in Eastern Kentucky when Fox began practicing. There were no four-lane roads and few with pavement. People in rural areas had to travel to Lexington or Louisville for special appointments. That meant spending a day on a bus, a night in a motel, then facing the confusion of the city to find the appointment. "That could be devastating."
In 1986 she was a member of the first public health group in the United States invited to China, a trip that had to be sanctioned by the US Department of State.
Dr. Fox was a thoughtful friend, an accomplished storyteller and an avid wildflower photographer.
She spent much of her retirement as a sought-after speaker, lecturing throughout the state on topics such as child abuse, hypertension, death and dying, sexually transmitted diseases, rape, substance abuse, spouse abuse, family planning, and AIDS.
On April 18, the Bluegrass Council, Boy Scouts of America, plan to honor Dr. Fox with its Distinguished Citizen Award. She knew about this and was pleased and excited. She planned to film an acceptance speech from her home, but it was not to be. The banquet in her honor will still be held and the award presented to her nieces and nephews.
A measure of people's respect and admiration of Dr. Fox, as well as her accomplishments, she was the recipient of many other honors and awards: an Honorary Doctor of Humanities from Pikeville College, 1985; Honorary Doctor of Medical Services from Union College, 1994; named to Union College's Business and Professional Hall of Fame, the University of Kentucky's College of Public Health Hall of Fame (2005 – first class); Governor's Outstanding Kentuckian Award; four Kentucky Colonels for work with children and floods; two Kentucky Admirals;
Pikeville Business and Professional Woman's Club Woman of the Year 1976; Kentucky Federation of Business and Professional Women's Clubs, Woman of Achievement 1976; Pikeville Woman's Club, Outstanding Clubwoman of the Year 1973, 1985, 1997; Kentucky Federation of Women's Clubs, Human Service Award for Outstanding Community Service 1984; Special Olympics Service Award 1983, 1984, 1985;
Pikeville Kiwanis Club Outstanding Citizen 1991; Kentucky Ombudsman Recognition for Contributions to the Elderly 1992; National Association of States Units on Aging, Louise B. Garrard Award 1993; East Kentucky Leadership Foundation, Private Citizen Award 1997; East Kentucky Women in Leadership, Vision Award 2001; Pike County Chamber of Commerce, Lon B. Rogers Lifetime Achievement Award 2002; Kentucky Public Health Association, Al E. Austin Award for Career Achievement;
Kentucky Nursing Association, Distinguished Person of the Year; Who's Who Among American Women; Who's Who in Kentucky; American Red Cross Clara Barton Award; American Red Cross Dome Award; Pike County Chamber of Commerce, Civic Contributions Award; Christian Appalachian Project; Mountain Spirit Award 1994; and the Pike County Fiscal Court Community Service Award 2002.
Dr. Fox was a member of the First Christian Church, Disciples of Christ, Pikeville. She was a trustee and board chairwoman of Appalachian Regional Health Care (ARH hospitals), a trustee of the E.O. Robinson Mountain Fund (the fund donated $25,000 to Union College in her honor upon her retirement as a trustee), and a trustee of Berea College's Appalachian Fund.
She also held memberships in the following: Pike County Medical Society, Kentucky Medical Society, Kentucky Public Health Association, Kentucky Association of Public Health Physicians, American Medical Society, Pike County Chamber of Commerce, Foster Care Review Board, Five-County Head Start Health Advisory Board, Pikeville Woman's Club, Dollars for Scholars, Pike County Chapter of the American Cancer Society, Pike County Ethics Committee, and the Kentucky Power Company Customer Advisory Panel.
She was an honorary member of the Pikeville Rotary Club, the Kentucky Head Start Association, Nu Chapter of Delta Kappa Gamma, and the Kentucky Environmental Sanitarium Association.
In addition to her parents, she was preceded in death by her sister Jean Fox Woods; her brother, Philipp Fox Jr., and her long-time housemate and sister in Christ Dr. Mary Wiss.
She is survived by six nieces and nephews: Paula (Ken) Spitzler, Murfreesboro, Tennessee; Paul (Rhnea) Woods, Hazard; Neil Woods, Hazard; Phil (Paula) Fox, Louisville; Dale (Wendolyn) Fox, Clarksville, Tennessee; and Marcus (Lori) Fox, Pinehurst, North Carolina; three great nieces, four great nephews, three great-great nephews, one great-great niece, a special sister in Christ, Lucille Howell, and her special friend and assistant, Jennifer Robinson.

Visitation at J.W. Call Funeral Home Chapel will be at 1 p.m. Saturday, April 20. Funeral service will be held at 3:00 p.m. Saturday, April 20, 2019 with Rev. Bob Norman officiating. Graveside services will be conducted at 2:00 p.m. Sunday, April 21, 2019 in the Barbourville City Cemetery, Barbourville, Kentucky. J.W. Call Funeral Home is in charge of the arrangements. Pallbearers are Steven Hale, Neil Woods, Marcus Fox, Philipp B. Fox, Paul Woods, and Patrick Woods. Honorary pallbearers are David Zoellers, Charlie Zoellers, Joseph Zoellers, Cindy Byrd, Donnie Layne, Bill Gilliam, and Odera Compton.
To send flowers or a remembrance gift to the family of Dr. Mary Pauline Fox, please visit our Tribute Store.
Previous Events
Visitation
J.W. Call and Son Funeral Home
703 Hambley Blvd.
Pikeville, KY 41501
funeral
J.W. Call and Son Funeral Home
703 Hambley Blvd.
Pikeville, KY 41501
With Rev. Bob Norman officiating.
Graveside
Barbourville City Cemetery
106 State Hwy 225
Barbourville, KY 40906
Cemetery Details
Location
Barbourville City Cemetery
106 State Hwy 225
Barbourville, KY 40906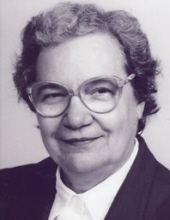 Thank you for sharing your
memory of Dr. Mary
Provide comfort by sending fresh
flowers from our local florist.
No thanks, please don't show me this again.